Updated! Now supports nVidia's ShaderPerf tool.
Downloads
EffectCompiler.zip [51.3kb] – XNA Game Studio Express 2.0 (Visual C# 2005 Express), Source + Binaries
Description
Yesterday I took apart my Effect Compiling Tool which took a HLSL shader and converted it to Windows/Xbox360 bytecode, and made it into something more useful outside of XNA.
It's always been somewhat of a hassle for me to compile and disassemble HLSL shaders. I can edit them pretty well in Visual Studio with code coloring and tabulations/undo's/whatnot, but to compile them I always had to go with something else. I had read in the book Programming Vertex and Pixel Shaders by W.Engel how to compile them in VC++ 2005 using a Custom Build Step and fxc.exe, but when working in C# I had to have a parallel C++ project just for shaders, which is dumb. Also, fxc.exe has become less and less stable for some reason… So I finally made my own compiler and disassembler using XNA 2.0.
Here's what it looks like (very similar in layout to the XNA Effect Compiling Tool) :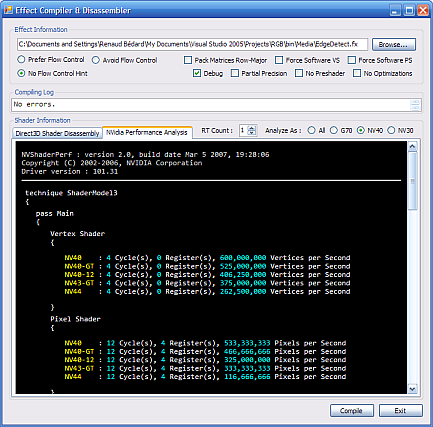 So usage is as simple, you browse for your shader script, tick the compiler options that you want, and compilation & disassembly occurs.
Just like its ancestor, it supports #include directives in the shader (which I adore and encourage to use) and should play well with just any shader.
The disassembly frame is actually a web browser because the Effect.Disassemble() XNA static method returns HTML markup. So I save into a temp file and with a WebBrowser control I navigate to it.
I really think of disassembled shaders as an essential tool in HLSL programming because it allows you to see how the compiler has been able to optimize your code, and how much instructions you have left. With "Debug" ticked as a compiler option, you can see which lines and files are referred by which instructions, and so keep track of the compiler's line of thought.
I currently use this tool for a TV3D project, since Visual Studio for shader editing and this tool for compiling and disassembly is a much more efficient production pipeline than the SDK's Simple FX Editor in my opinion.
Try it and see!
Update notes
Following Daniel's suggestion, I added support for nVidia's ShaderPerf tool, which profiles HLSL code to know the number of cycles and vertices/pixels per second that each GPU model effectively does. This can be useful for optimization.
Besides, nVidia's CLI tool is pretty hard to use since it asks to choose whether you want to profile the vertex shader or the pixel shader, then asks for the technique and pass you want to profile… So my interface simplifies the process and asks the performance data for each pass, each technique and for both VS and PS.
It also formats the information in a very succinct way, and gives it a similar look to the D3D shader disassembly.
One problem is that I can't redistribute the tool as per nVidia's license. So you're going to have to download and install it yourself, and the app looks in the default install path (in the host machine's Program Files folder) to find the executable.
If for some reason that fails, you can throw the .exe in my tool's binary path, and it'll look there as well.
NVIDIA ShaderPerf 2 Alpha download site.
I did try using ATi's similar tool called "GPU ShaderAnalyzer", but its command line interface is even more cryptic than nVidia's, and I gave up using it after trying for an hour or so. If anyone can point me to an example usage, I'd be glad to add it to my app!
Enjoy!