Easing functions make any movement look pretty. So you're going to need them at some point.
And implementations are so widely available that you don't have an excuse not to use them. I found this ActionScript reference to be very helpful in creating my own C# easing functions library, which I'd like to share… so here it is!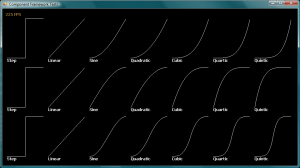 First line is EaseIn, second is EaseOut, third is EaseInOut
Download
Easing.cs (4 kb – C# class)
It's a static class and it's framework-agnostic, completely standalone. The screenshot you see above is my TV3D test class. I won't post the whole sample, but here's the code if you want to see how I used it. In order to run, one would need a version of my components framework that I haven't released yet.
I also didn't implement each and every function that Robert Penner presents, just the ones I figured I'd use. Bounce and Elastic sound like physics to me, I don't think I'd use easing functions to achieve that.