Updated 04/07/2012 : Version 1.1 — see below for patch notes & downloads.
At long last!
Pico Battle is a game I initially made with Aliceffekt for the Prince Of Arcade event of early November 2011, which more than half a year ago. But between FEZ, Volkenessen, Diluvium and Waiting for Horus, we never took the time to actually finish it properly, until now!
In its PoA demo form, it used the same crude networking code as The Cloud Is A Lie, which requires two computers plugged in the same LAN or ideally directly by a cross-wired ethernet cable. Releasing that particular version publicly made little sense, so we decided to make a much more extensive multiplayer version.

Above, Pico Battle 2011 (albeit a terribly compressed and cropped screenshot).
And below, the version we're releasing! :)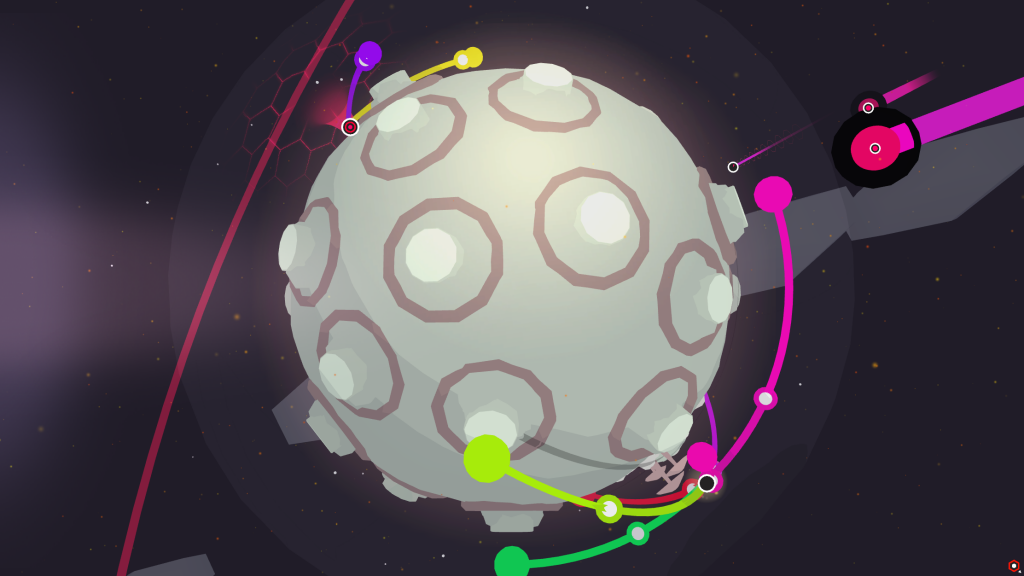 This game's name might remind you of another Prince of Arcade game, this one in 2010 — Pico³. It's the same basic idea of playing with colors, mixing and matching them, but this time in a competitive versus environment.
How To Play
Upon launching the game, you will find yourself in the Lobby, a temporary haven. You should look for an hexagon floating about the edges of your screen (right click drag to rotate around the planet) and click on it to practice against the AI. You might see circles too, they are other players and could challenge you as soon as you raise your shield.
To protect yourself against incoming attacks, find the patch of dirt marked by a black & white circle, and connect a node to it. The shield will light up, eating away at the incoming bullets with a similar hue. In the lobby, you are invisible to potential attackers as long as your shield is unpowered.
To win against your opponent, locate a patch of mushrooms and connect nodes to it — this is your cannon. It needs a minimum amount of power to be able to fire, and based on the incoming nodes, will fire bullets of various sizes and colours; easier or harder to defend against. The idea being to match the colour of incoming bullets with your shield, and to differ as much as possible from the opponent's shield colour (which is indicated by the contour of his circular icon) with your cannon's bullets.
Pico Battle is an entirely wordless game, and might seem offputting or hard to grasp at first. In the lobby, a robotic voice will explain the basics of the game, and take your time there to experiment with the controls and the scarce UI elements. As you get familiar with the game and its interface, you will discover strategies and enjoy it even more.
Updates
04/07/2012 — Version 1.1
Fixed bug where the AI wouldn't defend itself if it is challenged too quickly
AI now raises a random shield before you attack with any colour
Fixed graphical issue on arc-link shadows
Escape key now quits the game if pressed in the lobby
Downloads
Windows Version – picobattle_pc.zip
Mac OS X Version – picobattle_mac.zip
The soundtrack is available on Aliceffekt's blog entry for the game.